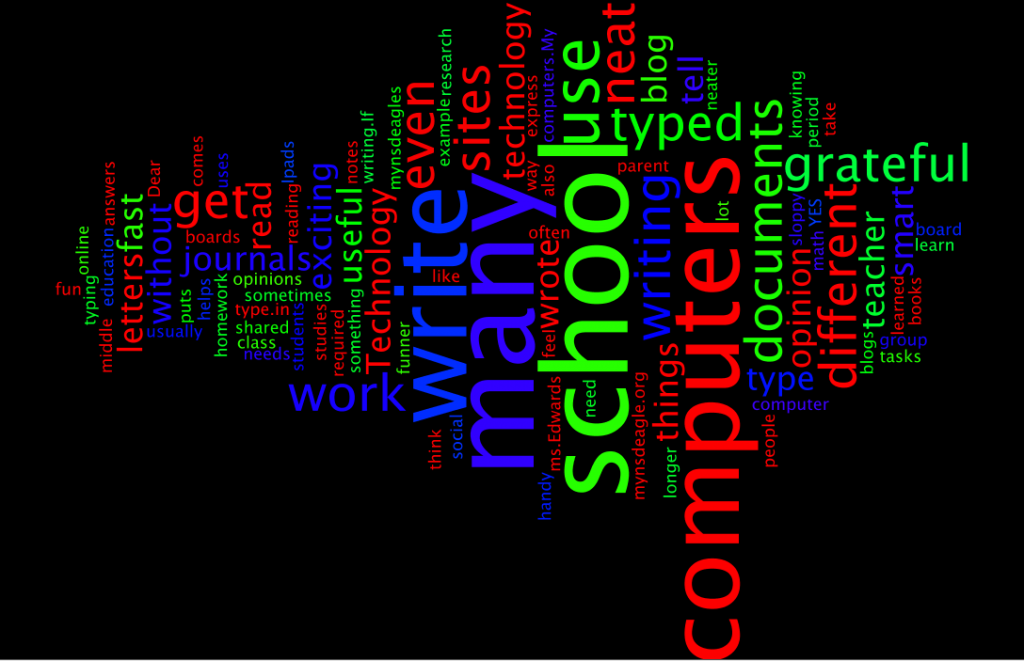 We've settled in, but still testing, with new laptops for grade eight.
We've got writers ready to write, and lots to learn.
At left is a wordle by a student two years ago who wanted to express her thanks for our school district's emphasis on technology, at least in the language arts classroom.
With laptops ready, eighth grade students have signed up for their blogs, and have accessed them. You can see them from links in the sidebar. But: they have nothing there —- yet. Last year we used kidblogs, so these older students are ready for a blog with more options, and Edublogs provides that — options, creativity, personalization, safety.
Are we ready?
We are late for the September student challenge, but we will use those as our guide. The first thing we'll do is set up for comments, as in this post on Challenge Tips 1
Next we'll introduce ourselves, as in Week 1 Introductions. Remember our own Internet Netiquette. Complete at least one activity, preferably all three. We'll tweet out for comments4kids and find the same to comment on.
Although its past September, some great suggestions for possible posts are here: September Posts. Anytime you need an idea, try one of these. Remember our other writing prompts. And it's always fun to go to bing.com to learn from the pictures on the search page; write about the topic– what you knew, what you learned, what you want to know from your blog readers.
Week 2 Town and Country will require us to think about how to present the information in a way the meets our policies. Be creative. Ask your teacher about Animoto or VoiceThread.
Week 4 is Global Issues. I know some of these are concerns for my students — so students, how will you respond, research, and share?
Blogging is thinking out loud; it's organizing your ideas clearly so others learn from you. In their comments, you learn back from them.
Are you ready to learn?