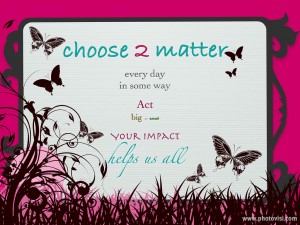 Purpose and Rules
Our Blog is a site intended to enhance written discourse and media citizenship among students. We choose to matter, to make a difference.
Our goals:
1) develop and apply our writing skills as we read, write, and think about our interests, our learning, and our world;
2) consider and connect our writing skills, our learning, and our world to narrate, explain, and persuade in order to clarify and share our understandings;
3) understand audience, purpose, and format in mixed-media presentations to narrate, explain, and persuade;
4) engage others in conversations that consider additional concepts about our ideas;
5) collaborate with others to deliberate on and revise our language style decisions;
6) participate as positive, responsible, and productive citizens in the web world.
For more information, see Why Blog?
The Rules
1. Be safe: If you are a student you must use your code name. Follow and remember our netiquette at: Blog Etiquette (Internet/Wiki/Blog) Keep your personal information to yourself, not publicly presented. Keep your password secure to yourself and with your teacher.  Print a copy: Rules for Eagles
2. Be kind: Be overly friendly and positive; you must refrain from any profane, sarcastic, or unkind responses.
3. Be respectful: Since our writing work is schoolwork, school rules and expectations apply when making any references on or to this site. Remember to work on your files only; edit others' work only with permission. If someone forgets to log out, please log out for them. See  Comment Guidelines
4. Be productive: Make sure you communicate clearly and intelligently (no text message wording please) on a relevant topic. Remember your purpose and audience.
5. If the above criteria are met, your posts may be published; if the above criteria are not met, your posts may not be published.
6. The views on this blog are not necessarily those of Ms. Edwards or our school.
Rules Adapted from: The South Titan Government Blog
More Internet Safety Information
About safety:
Watch the video at iKeepSafe for more information.
Never post your personal information or information about someone else.
Learn more about online safety:
OSPI Cyber Safety Brochure for Families
Nine Elements of Digital Citizenship
In our classroom, on a daily basis, we practice our Net Safety through lessons, discussions, and interactions on and offline.
Purpose and Value
1. Student blogs
Students begin writing posts as contributors on this class blog until the student's entries demonstrate independent, ethically responsible, writing process decisions.
Next the student progresses to an individual blog — only one per student, which spans their middle school tenure, and which may be downloaded and kept when the student leaves our school in eighth grade; assessment occurs only for the quality of writing.
2. Student Assessment
Writing teachers assess and give earned credit for the blogs through a common assessment tool, such as the Writing Rubrics, to help develop student writing style and skills. Students self and peer assess as collaborators in developing our writing abilities. Content is open for the student to freely choose, as long as the choice is educationally appropriate for the audience and purpose. The goal expects students to re-connect on their blogs with their own interests and the learning from their classes—to reflect, dissect, connect, reject, and project with others to clarify their own understanding.
3. Writing Workshop
The blog workshop will begin with this year's grade eight class. They will continue blogging about their "educational journey" until promotion in grade eight. Their grade eight experience will contain a "Pinnacle Project" in which they write a "My Educational Journey Through Middle School" essay (preferably digital and mixed-media) that reflects on and synthesizes the essence of their educational path as seen through their blogs.
This will be a "writing workshop." It encourages student construction of their own interdisciplinary meanings, the return of the parts to a student-synthesized whole. Student writers will authentically experience all the stages of becoming a writer, ups and downs together. In addition, each blog is a hyperlinked culminating writing project, online, for students to use for their high school prep file, and to begin the high school synthesis of learning for college applications. A blog is worth a thousand essays.
If you have any concerns, questions, or reports of inappropriate content, please email Ms. Edwards:
Adapted from: Clay Burell