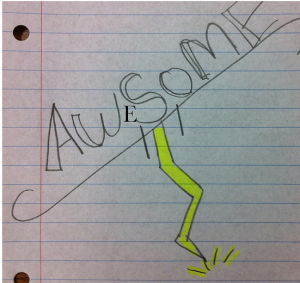 Awesome! The Edublogs Team now offers challenges for Connected Educator Month to help teachers and students learn to connect through blogs. Choose teacher personal/professional blogging challenge or the student blogging challenge.
This is a class blog. Students and teachers will post and comment here; and grade eight students have their own blogs (see sidebar). The student blogging challenge will guide us (see previous post) to learn about and learn to blog. Are you ready?
Let's begin…
We've been reading Out of My Mind by Sharon Draper for the Global Read Aloud. The main character, Melody, can't talk or walk because she has cerebral palsy. On page 8, Melody says, "Thoughts need words. Words need a voice." We've discussed what she meant by that in class, but now I have a new question for you:
In a comment to this post, answer this question:
How does blogging give you a "voice"?