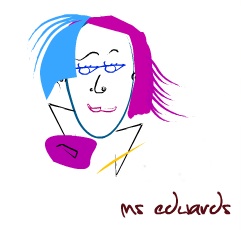 Blogging is something I hope to start within the first week of school so I need to revamp our class blog and see what other class's are doing. So, I decided to take the Edublog Teacher Class Blogging Challenge!
In choosing a theme, I like a mobile-friendly theme that includes a customizable header, menu for pages, and a sidebar for info I don't want my students to forget. The older students will have their own blogs and  a sidebar lets them and others link right to them.
I chose "My Life" because I liked the soft tan background and the fact that it lists several posts with images.
I enjoyed these middle school blogs:
Making Waves in Sixth Grade : two sidebars with lots of info; a great reading idea on the top post: video-tape readers theater by students
Mrs Kriese's Our Class Blog: a nice sidebar with info with crisp black with leopard/tiger background; loved the tackk.com embedded– what movie adaptations are you looking forward to?  Tackk's let students comment with media in the tackk.
Jan Smith's Huzzah:  love the smiling faces and summer green color; love the sidebars with important info — love this one:
Please notice our successes, not our mistakes.

Our blog is a invitation to see what we are up to. Some of our work will be polished, and some will be in draft form. Please honour our attempts. We are learning!
I think it's important to remind people we are all learners. I stumbled upon this blog year's ago, and have added a similar message to my blogs.