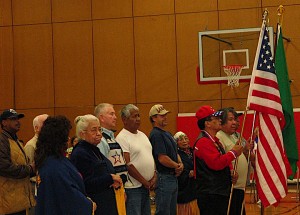 Every year at our school, we hold a Pow Wow or an assembly to honor our veterans. The picture at left shows our Grand Entry  and many veterans from our community, Native American or not. A large percentage of the Native American people enter the Armed Forces of the United States to protect our freedoms and to honor their relations who have served in the past. The VFW sponsors an essay contest each year, a paragraph about honoring all veterans. This year, two of my students created a project for the middle school. They asked that students write the paragraph about veterans, and then create a Wordle  as a word tribute to honor our veterans.
Did you know that during World War I and World War II Native Americans serving in the Armed Forces used their native languages to create secret codes that our enemies could not break?  Read about the Code Warriors at Smithsonian National Museum of the American Indian.
Do you know the veterans in your family? What do you do to honor those who have served to protect us? What does your community do in honor of the veterans? If you live near a Native American Indian Reservation, there is certain to be a Veterans Day Pow Wow. If you take your veteran there, let the Master of Ceremonies know, and your veteran will be honored.
All this week, Kimy and Rista's classmates will be adding to this presentation to "Honor All Veterans." What do you think of their project? Please comment on their project, and if you would like to respond to the questions in the previous paragraph, please do. If you write a paragraph about honoring veterans, you can write it in a comment also to add to our honoring of veterans in any country. If you create a wordle, please share it with a link.
And remember to visit a veteran on Friday, November 11th, Veterans Day.