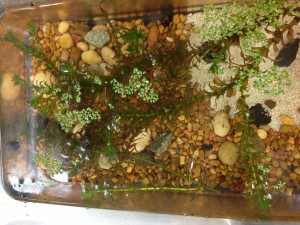 RW8 Rocks!To show your reading and science knowledge, write a blog post with these elements:
Title of Ecosystem Science Activity
Hypothesis / Question: Are ecosystems a system where living and nonliving factors interact in a specified area?
Materials
Process — what did you do.
Results: what happened.
Conclusions: Explain one of the questions below:
Choose an ecosystem that you are familiar with and identify both the biotic and abiotic factors that are included within. Next identify and explain the interactions between the elements.
Choose an ecosystem that you are familiar with and explain what types of things, both from within and from outside the system, can impact the system.  Think of both positive and negative effects.
Your blog post should:
Be organized
Be written in Sentences and paragraphs.
Be engaging — how will you hook your reader with your title and first sentences?
Be edited for grammar, spelling, punctuation, capitalization
Include images
Include a 
Voki
 explaining what you learned– your answer to the question / focus statement about ecosystems.
 Original Assignment Posted here.