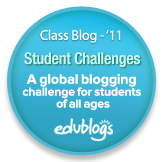 We've been gallivanting around the world right from our own classroom ! We've met some amazing people through a few bodacious blogs in the Class Blogging Challenge !
Have you visited these blogs?
Stenda recommends "Kids in the Mid."  She says, "People in the United States would probably learn more in Kids in the Mid. They can learn how to make blogs or comments. They can learn what to use on your own blog and what not to use on the blog.  I really liked the kid named Braydon's blog. It had animated pets you can learn to get; there was a monkey, wolf, duck, puppy, hamster. You could feed them steak, peanuts, bread and a strawberry. He talked about how to make an avatar and how to use Toondoo."
Davtrav suggests reading TAS Secondary School Academy.  He said, "I think people should see the TAS Secondary School Academy in Vietnam where there principal has his students to have two weeks to make their model of the Super Moon. there's even nice photos. The photo of the Super Moon and photo of a regular-sized moon."
Basketball rules here, so Nita recommends reading The Blog of Awesomeness. She says, "It's mainly about basketball. Also, there are two videos about Michael Jordan and Lebron James. the videos have a really good picture and music. It also tells the basic rules about basketball and his opinion of the top ten basketball players. He talks about March Madness as well as who his favorite NCAA team was as well."
The all-time favorite blog to read was Earth Science. The eighth grade students had been studying similar topics, so this blog grabbed their interest. Here's what they said:
Roger: I think people should go to Earth Science because the second video is funny and you can learn about a meteor, and astroid, and a comet.
Pepernos: The videos are funny and talk about space and planets. They do little acts for you to help you understand what they are learning. Also this shows while you're learning you can laugh!
Naner noticed that you will see funny videos of kids telling what a meteorite, asteroid, comet is. The thing I liked the best about it was this one video. It was abou an asteroid, then a comet, then a meteorite. So the asteroid bumped into Jupiter and Jupiter back-handed the asteroid! That really made me laugh!
Tinfoil: Visit the blog Earth Science. Why? I'll tell you why. You'll see funny educational videos about asteroids, comets, meteors, and meteorites. Also, you'll see a kid get slapped in the project videos — all for science.
Alper thought there were some pretty good facts about meteors, the orbit, and much more in all the videos so that you don't have to read. My favorite part about this blog would have to be the videos; I liked these videos because they were super funny, but yet I learned a lot from them. They tell you many different things about the subject of space.
Ayming really liked how they made learning about Earth Science fun. Their videos were funny because there was falling, hitting, and kids/peers saying funny stuff. But then again they were telling us what they know about earth. This is why I recommend people should visit EARTH SCIENCE.
Dragan really liked this log because it was so funny, but you learned a lot about it, which made it cool. I really liked the videos. They were funny. They showed people falling, hitting, and a lot of other stuff. But I think everone should go to that blog. Remember Earth Science.
We'll continue to read, learn, and enjoy from all the blogs, but don't you think these five are "Good Reads?"